With over 30 years of expertise in the design, construction, programming, and on-site commissioning of custom control panels and automation solutions, Machine Control Systems is the supplier of choice across a broad spectrum of industries. By combining their skilled workforce and industry-leading production processes, MCS is able to tackle complex projects from concept to completion on short turnarounds—without sacrificing the quality and service standards Machine Control Systems is known for. A recent project with Greater Toronto Airports Authority (GTAA), SkyCharge, exemplifies Machine Control Systems' competence and craftsmanship when operating on strict time constraints. Read on to learn how the advanced production methods of MCS made SkyCharge possible.
What is SkyCharge?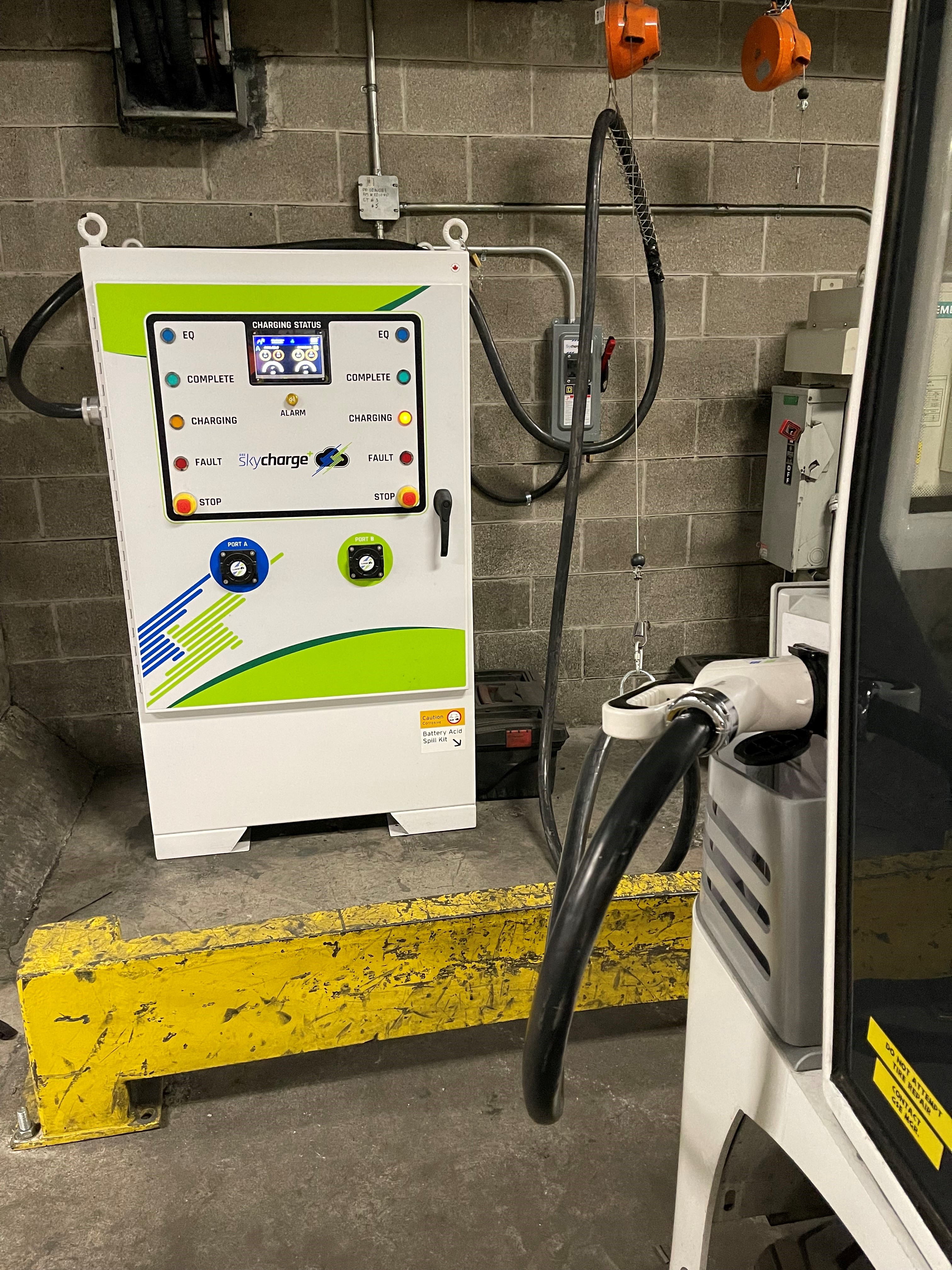 Meeting the needs of a wide scope of ground support equipment—baggage tractors, belt loaders, service carts—SkyCharge is an advanced, high-efficiency battery charger. SkyCharge is a "smart battery" with cloud-based data monitoring, meaning users can track energy consumption per user as well as vehicle load control.
Due to the size limitations of the installation area, MCS was tasked with completely redesigning the SkyCharge system in addition to designing an all-new space-saving control panel for the system.
The MCS Engineering Process
Innovative Design Software
Adhering to the strict space constraints of the SkyCharge installation area, Machine Control Systems leveraged their E-Plan 3D design software to provide GTAA with a detailed visual layout of the redesigned SkyCharge system and control panel. The MCS pre-production team and print department also collaborated on providing attractive and durable silkscreen graphics for the panel access door.
Panel Assembly and Testing
To ensure the highest level of precision, Machine Control Systems rigorously tests all control panels. For SkyCharge, MCS designed, assembled, wired, and tested 20 sets of SkyCharge control panels–guaranteeing the solution provided for GTAA was the best one possible. Despite extensive testing, the skill and collaboration of the Machine Control Systems production team allowed them to deliver and install the final product withing the project's tight deadline.
Machine Control Systems designs the future of the GTAA
The MCS-redesigned SkyCharge system has been a great success, functioning beyond what the GTAA had hoped for. With more orders on the way, Machine Control Systems looks forward to helping the Greater Toronto Airports Authority engineer the future of commercial travel.
For more information on the SkyCharge project, or to learn more about the engineering expertise of Machine Control Systems, complete the contact form or send a note to info@ardeatechnologies.com.